Luxurious Newborn Session Experience
Because they are tiny only once
Just few days/weeks ago your baby was inside of you and now you probably hardly remember your pregnancy. I hope you decided on elegant maternity portraits to preserve that memory of carrying your baby for 9 months. Your life is no longer the same and like all new moms, you are most likely sleep deprived while trying to find a new routine in your life. Oh the beauty of motherhood/parenthood! Those first few weeks of your baby's life are so fleeting and those moments cannot be taken back and so many wish to hold on to newborn phase for much longer. The thought of leaving the house might feel overwhelming when recovering from birth and caring for your new baby, but trust me, you will not regret those first newborn portraits of your precious baby!
In the first 2-3 weeks your baby is tiny, very sleepy and still very curly, allowing those squishy cute newborn poses you will  love. That's why I highly recommend to photograph your baby when she/he is only 6-14 days new. At that age they do not mind posing while they sleep and they will generally sleep the entire session after being fed and swaddled. This is not to say that if your baby is 3 weeks old you missed completely on the opportunity of having a newborn session – I have been successful with photographing "newborns" as old as 3 months and I can create beautiful portraits at any stage of your baby's first year of life.
It is never too early to schedule your newborn session. I usually suggest to start looking for newborn photographer in your 1st/2nd trimester and pick the one you love in the beginning of the last trimester.
Check on my newborn gallery and pintrest board
NOW BOOKING 2018
Limited number of commissions each month in February-August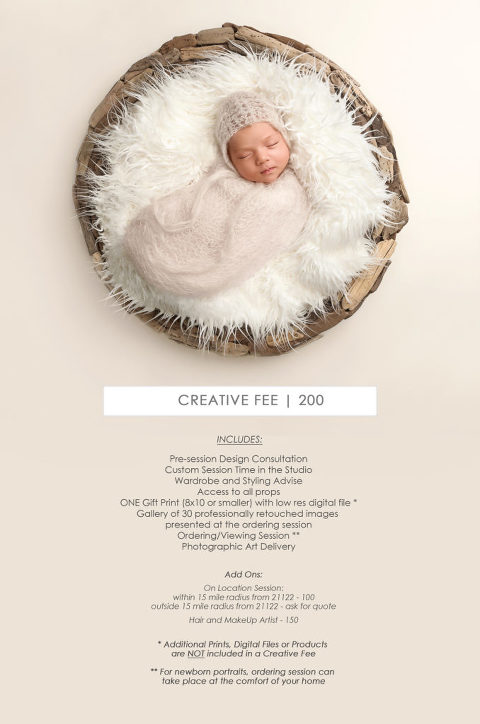 Prices are subject to change without notice. The Retainer Fee (Creative Fee) is required to reserve the date of your choice. Retainer fee locks current product and session pricing and it's due at booking (non-refundable). Special promotional discounts or other offers cannot be combined.
Wall Art starts from $250, Fine Art Albums starts from $1000, Collections starts from $650
Baby Plan available
Check FAQ and contact me to request more information
Maryland Sales and Use tax (6%) is not included in the price